TOURS
The lodge is the ideal starting point to discover many natural beauties of Costa Rica, to plan trips and tours, and to do some sports.
From here you can visit the mighty Arenal Volcano or the hanging bridges on the dam overlooking the volcano, admire the Viento fresco waterfalls, bath in the hot springs and explore the flora and natural paradise from Caño Negro or Rio Celeste.
Who wants to do sports can enjoy mountain and hiking tours, canopy, kayaking, canoeing or windsurfing.
---
Rio Celeste
Celeste River is a river in Tenorio Volcano National Park of Costa Rica. It is notable for its distinctive turquoise coloration. The Celeste River also borders several hot springs and has one large waterfall. It takes about an hour to hike to the waterfall from the park's entrance.
Origin of color
The source of the river's distinctive turquoise color is not a due to a chemical species but to a physical phenomenon known as Mie scattering. Celeste River is fed by two colorless rivers, the Buenavista River and Sour Creek. Buenavista River carries a large concentration of aluminosilicate particles with a small diameter. Sour Creek, as its name implies, has a high acidity due to volcanic activity. When these two streams mix to form Celeste River, the drop in pH causes the aluminosilicate particles to aggregate and enlarge to a diameter of about 566 nm. These suspended particles produce Mie scattering which gives the river a strong sky blue color.
[ Top ]
---
CaÑO Negro
The Caño Negro Wildlife Refuge and the Rio Frio are some of the most biologically diverse wetlands in Costa Rica, offering some of the richest wildlife viewing and birding sites in the Americas. Caño Negro by Canoe This trip is a great variation from the normal Caño Negro day tour. Explore Caño Negro by canoe and paddle down the Rio Frio. If you only have one day and want to see a wide range of wildlife, this trip is for you. One Of the best Canoe Tours in Central Amerika, amazing experience!
Transportation
Naturalist Guide
Breakfast in the Restaurant "El Caiman"
Snack
Traditional lunch in a nice Restaurant
Equipment
Bottled wáter
108$ p.P.
[ Top ]
---
Safari Float Rafting
Don't miss this outstanding tour on the quiet waters "Peñas Blancas" River, floating on our inflatable rafts. You will experience a relaxing half day tour, led by one of our bilingual naturalist guides and expert in safari adventures. He will provide a safe environment and point out the beautiful flora and fauna of this region. Animals like sloths, monkeys, toucans, crocodiles, Jesus Christ Lizards, and turtles might cross your way, including seeing the colorful world of tropical birds. We will have the opportunity to visit the farm of Don Pedro, where we can observe the lifestyle of the Costa Rican farmers and enjoy a delicious homemade snack.
Transportation
Bilingual naturalist guide
A visit to the Don Pedro's farm
Snack
Equipment
Bottled water
59$ p.P.
[ Top ]
---
Arenal Volcano's Thermal Waters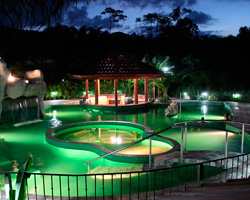 Take a dip in "Palma Real" and "Los Papiros" thermal pools and let the warmth and the waterfalls soothe and relax your entire body; or if you prefer, enjoy the confort and hydro massage that provides "Ginger Jacuzzi", or our newest attraction: "Oasis Jacuzzi".
Always feel in the tropics by being surrounded by our beautiful tropical gardens. Admire exotic palms, flowers and even costarrican coffee trees; and don't forget about the main character... breath taking Arenal Volcano!
Rates:
$28 p.p.
$43 p.p. including lunch or dinner
*Price includes locker and towell
[ Top ]
---
Canopy Tour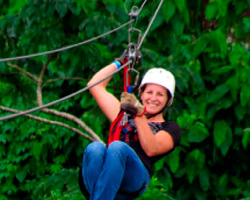 Like a bird that flies through the tree tops… That's the way you will feel doing our canopy tour, a perfect combination of adventure, nature and adrenaline, just at the foot of the Arenal Volcano.
We stand out because of our privileged location, our primary forest and for offering the highest standards of security for this adventure sport; we are in the small group of canopy operators that incorporates a second security cable for taking care of our visitors. Also, in contrast to other operators, we offer the possibility of starting the tour at the time that our client chooses.
The canopy tour operates in different schedules: 7:40 a.m., 9:40 a.m., 11:40 a.m., 1:40 p.m. y 3:20 p.m. Sometimes, the time for starting the tour can be earlier or later with the objective of adapting our service to our client's needs. That is why, it is important to verify the starting hour of the tour and arrive to our reception room 15 minutes before that time.
Enjoyment, a panoramic view of the zone and the company of a naturalistic guide that will show you different species of animals and plants… That's what you will get in this trip that will become you a new element of the nature around you.
This adventure will take you for 13 cables, starting in one of 25 meters of extension. The level of adrenaline will increase until you arrive to cable number 12. This is the longest cable and it is 430 meters long.First, our specialized guides will give you the needed equipment to enjoy with security and you will receive a speech to know what to do during the tour. Then, we will take you to the first canopy platform in an off road car and after that, you won't stop flying!
Rates: $50 p.p.
[ Top ]
---
horseback riding
"Most public riding establishments have old nags riding nose to tail. Alesandro operates a horse rescue. His family runs the restaurant. His sons are horse trainers and farriers and his daughter was our guide on a great ride through the area surrounding lake Arenal. We own horses at home and I guess she could tell we could ride as she told us where the best places were to go gallop is if we wanted to. The views are amazing. The horses are very well trained and appear to be bomb proof as a pack of about 6 dogs came out of nowhere and didn't bother the horses at all."
Rates: $44 p.p.
[ Top ]
---
Arenal Volcano
Arenal Volcano, in Spanish Volcán Arenal, is an active andesitic stratovolcano in north-western Costa Rica around 90 km northwest of San José, in the province of Alajuela, canton of San Carlos, and district of La Fortuna. The Arenal volcano measures at least 1,633 metres (5,358 ft). It is conically shaped with a crater spanning 140 metres (460 ft). Geologically, Arenal is considered a young volcano and the age is estimated to be less than 7,500 years. It is also known as "Pan de Azúcar", "Canaste", "Volcan Costa Rica", "Volcan Río Frío" or "Guatusos Peak".
The volcano was dormant for hundreds of years and exhibited a single crater at its summit, with minor fumaroles activity, covered by dense vegetation. In 1968 it erupted unexpectedly, destroying the small town of Tabacón. Due to the eruption three more craters were created on the western flanks but only one of them still exists today. Since October 2010, Arenal's volcanic activity appears to be decreasing and explosions have become rare, with no explosions reported between December 2010 and October 2012.
[ Top ]
---
Fishing tours
1 or 2 persons half day (5 hours)
Rate: $225

1 or 2 persons full day (9 hours)
Rate: $350
Are you planning to visit Costa Rica on your next vacation? Do not miss Costa Rica's most impressive fishing tour on Lake Arenal!!
Surrounded by nature, overlooking the Arenal Volcano you will live an unforgettable experience, accompanied by Marc an experienced guide who will be your host.
If the famous Rainbow Bass is on your bucket list FISHING LAKE ARENAL offers you a great opportunity to add it on
Lake Arenal is the largest man-made lake and attracts anglers from all over the world looking to do some inland fishing in beautiful Costa Rica. Lake Arenal fed by a variety of rivers is full of Rainbow Bass or Guapotes (the handsome one in Spanish and a cousin of the Peacock Bass), acrobatic machacas (smaller version of the Tarpon but related to the Piranha), mojaras (looks like a sun fish).

[ Top ]
---
Hanging Bridges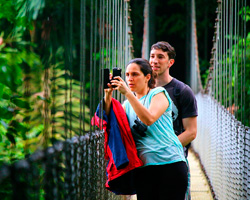 Hanging Bridges Park is located on the Arenal fault in a tropical transition wet forest. It is located at 600 meters above sea level, and it concentrates 250 ha of mature forest, with an annual rainfall of 3.500-6.000 m.m. and a relative humidity of 88-92%. The trail is 3 km and allows tourists to walk on 15 bridges; 6 of which are hanging. This is a highly diverse forest since it lies between the boundary of highland and lowland forest, integrating species from both areas.
24$ p.P.
[ Top ]
---